A few weeks ago, my family and I watched Disney's Queen of Katwe, which came out last year in September. I had been wanting to see it for a while, but had never gotten around to watching it in theater. If you are unfamiliar with it, Lupita Nyong'o (who has starred in The Force Awakens as Max Kanata, The Jungle Book as Raksha – the mother wolf, and other films) plays the main character's mother, Nakku Harriet. Newcomer, Madina Nalwanga, plays Phiona Mutesi, the star of the film.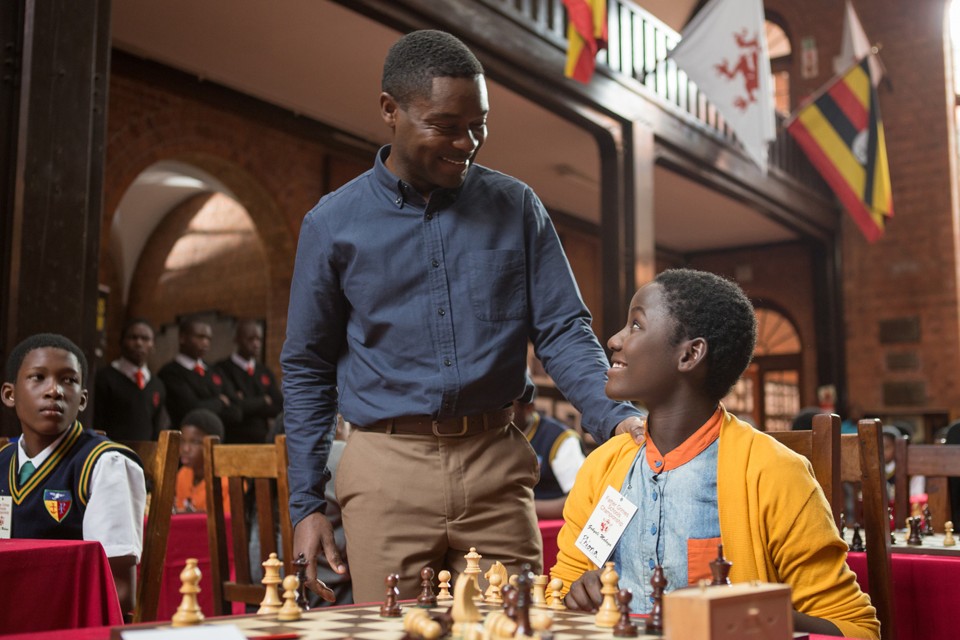 When I finally watched it, I was happy that it did not disappoint! 🙂 The movie is based on a true story, that actually only took place a few years ago – so it's very relative. Taking place in Africa, the tale follows a poor girl, Phiona, in Uganda, who learns to see life differently and overcome her circumstances through the game of chess.
Before watching and hearing about this movie, I did not realize that there are actual chess competitions at different levels – like any other sport. I also found it interesting that learning chess taught the children to think analytically and strategically, which in turn sharpens one's mind. And because most if not all of these children had never attended school before, this benefit to learning chess was even more important.
Though I don't know much about Africa's poverty, I thought the film did a good job of portraying
the different aspects that come with living at the bottom of the ladder. Not being able to pay rent for a home (what most of us would not even consider a house) and being kicked out, to not having enough money to stay in the hospital, and other such things.
At the end of the film, they show the actors beside the real-life people they played – which I thought was pretty cool. Additionally, Phiona's mentor, who run the Christian and sports institute that first introduced her to chess, is shown to have had a tremendous impact not only on her life, but on multiple children growing up in poverty. It goes to show that one person can make a big difference in the world right where they are. Without him, it would be highly unlikely that these children would have attended school and gone on to pursue such careers as engineering.
The themes of broadening one's mind, setting goals for yourself beyond your circumstances, and never giving up are scattered throughout this movie. This is a story of the impact one person can make, and how that can directly change one person's life, and in turn, another generation.
If you haven't seen it yet, I encourage you to go and watch Queen of Katwe. It's an inspiring, true story that people of all ages can enjoy.
~ Southern Dreamer