Thursday, April 26, 2019, I went to see Avengers: Endgame with a group of friends.
Holy moly, y'all! 
Where do I even start? So much in this movie happened, I'm going to break it down by my favorite parts, least favorite parts, and character arcs.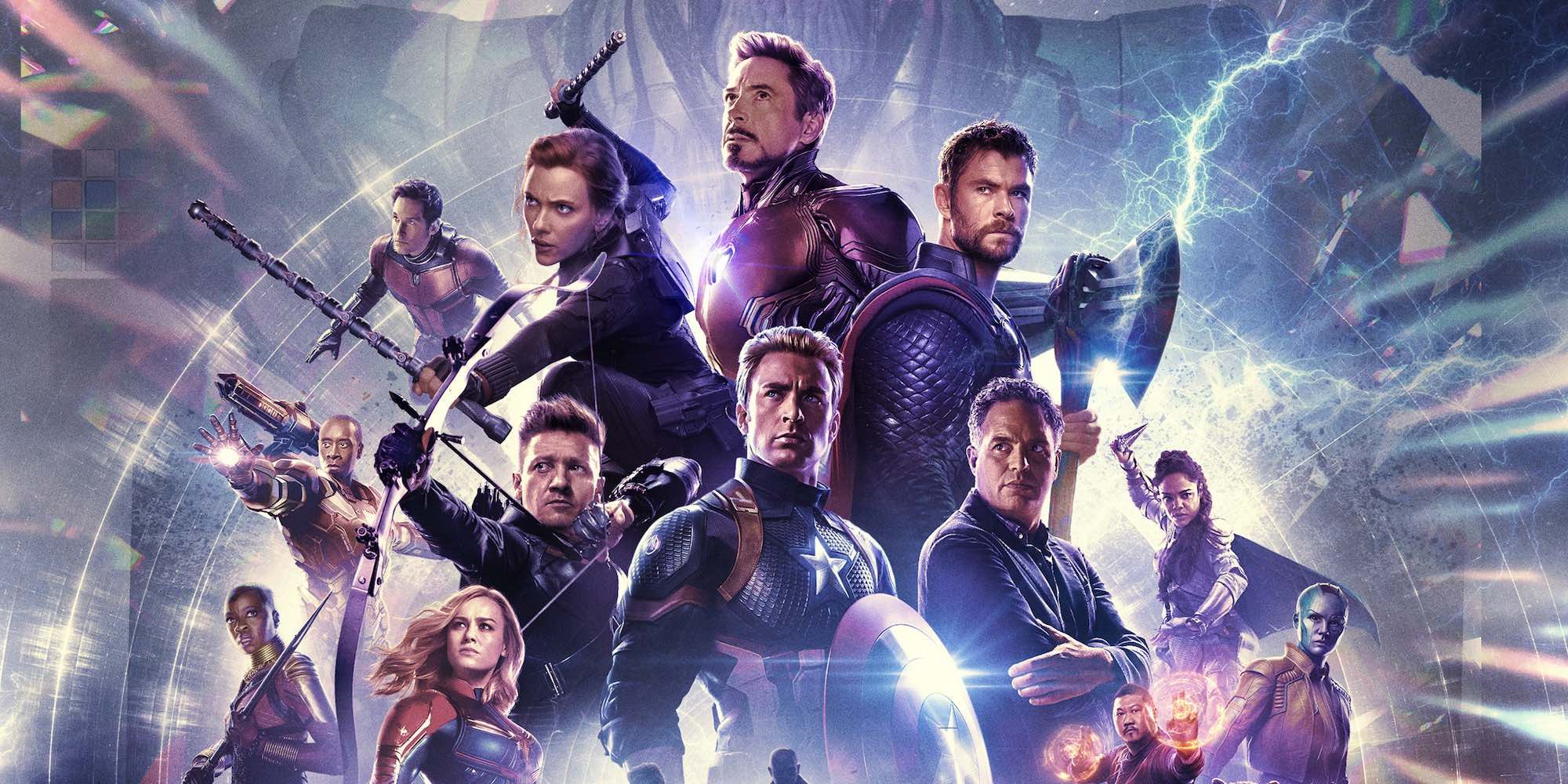 Leaving off right after Infinity War, the film starts with a heartwarming scene of Clint Barton at his farm, with his family. He's teaching his daughter, Lila, how to shoot a bow and arrows, while his wife and two sons are preparing a picnic.
He turns to say something, and panic sets in, because his daughter who was there only seconds ago, is no longer there. She's gone. He yells for her, and whirls around to ask Laura…she is not there. Neither are his two sons.
And so the movie begins, with the loss of the dusted felt deeply.
Meanwhile, the Avengers are separated. Tony and Nebula are stuck in space, quickly running out of food and water. On Earth, you have Steve, Natasha, Rhodney, Rocket, Bruce, and Thor regrouping in an effort to figure out what in the world to do now that Thanos has destroyed half of all life on earth.
Suddenly, they have a surprise visitor…Captain Marvel!
If you watched the end of Infinity War for the extra credit scene, then you'll remember that Nick Fury sent a signal to Captain Marvel, otherwise known as Carol Danvers, for help.
She shows up, the Avengers explain the situation to her, and soon after, they realize that Thanos has used the stones again. Pinpointing the titan's location, the team is determined to find Thanos, force him to return all of the dusted, and then…take him out.
The first minutes of the movie are of the team going to Thanos, finding out that he destroyed the stones, and Thor chopping off Thanos' head.
Um, what? There's still over two hours of a movie left!
It's crazy, because all of the trailers pretty much only showed scenes from the first little bit of the film!
There's a time jump, once all of the Avengers are reunited, where it says five years later. So, what are they doing now?
Natasha and Steve are holding down the fort at the headquarters (#ROMANOGERS), with Steve heading a support group for those who have lost loved ones. Okoye's leading Wakanda, while Thor, is in New Asgard, and has fallen into a depressed spirit. Carol, Nebula, and Rocket are keeping their eyes open in space and reporting back to Natasha periodically. Rhodney is trying to keep track of Clint, who has gone off the chain on a killing spree after his family died.
And Tony, well, he and Pepper started a family.
By a stroke of pure luck, a rat activates the van where Scott Lang has been stuck in the Quantum Realm for the past several years. He gets shot out, and is the catalyst that our heroes need to motivate them on.
Whew! Now that the scene is set, let's jump into some of the most heartwarming parts of the movie!
Morgan Stark.
So adorable! Although, with her dad being Tony, did we really expect anything different? Their relationship is so cute, and I LOVED all of their scenes together, especially the sweet "I love you 3000!" line.
And oh my gosh, that line about cheeseburgers at the end, paying homage to Tony asking Happy for one back in Ironman 1???
Cassie Lang.
After Scott gets out of the van, naturally he's confused, while trying to piece together what happened, and once he gets some semblance of it, goes straight to where he knows Cassie will be.
But five years have gone by. Cassie is no longer a little girl – she's a fifteen-year-old high school student. Because he was stuck in the Quantum Realm, he missed years of her life…Needless to say, their reunion was precious.
Tony and Nebula.
At the beginning of the movie, Tony and Nebula are stuck in a ship in space, with only each other for company. In an effort to pass the time, they play a game of paper football.
Now, if you don't know Nebula's background, you may not realize the significance of this. As a "daughter" of Thanos, Gamora and her were forced to fight each other and whoever lost was punished. Nebula always lost, and as a result, is part machine….
So when Nebula scores, and Tony says, "And you've won. Congratulations. Fair game." He reaches out to shake her hand, and she is dumbfounded. Was it really that easy?
"Did you have fun?"
"It was fun."
Frigga and Thor.
Oh my word, this was such a sweet, sweet scene. Thor, who has lost literally everything (brother, parents, friends, planet, etc) is given the chance to see his mother again.
"The future has not been kind to you, has it?"
And the throwback scenes! There were so many of them!
Tony handing Steve the shield, mimicking his father giving it to Steve back in the First Avenger.
Sam saying "on your left" as he flies in with the rest of the previously dusted characters, echoing Steve's line in The Winter Soldier, when he ran past Sam.
When they travel into the past, and Steve enters the elevator with all of the sleeper Hydra agents and says, "Hail Hydra," to get the Tesseract, also from The Winter Soldier. And too, when future Cap has to fight past Cap, and past Cap says, "I can do this all day," to which the future Cap replies humorously, "I know!"
I loved both of those! Before he said hail hydra, I actually wondered if he was going to knock them all out again!
Now, to the two best moments of the entire film.
Steve wielding Mjolnir, and Tony wielding the gauntlet.
Watching the scene, I thought that Thor had called the hammer at first, and when the
camera swung back to show Cap catching it, OH MY WORD THAT WAS LITERALLY ONE OF THE BEST MOMENTS EVER.
My entire theater erupted into cheers!
Also, like, YES. We all knew he was worthy! Cause in Age of Ultron, when he lifted the hammer it budged (and you either ARE or you're NOT worthy, no in between so yeah). AWESOME.
And Thor's, "I knew it!" SAME.
Tony wielding the gauntlet…one of the best and worst moments. His entire composure and determined resolution to do what needed to be done, even knowing what the consequences would likely be.
And his line…"I AM IRONMAN."
Such a great way to connect his beginning journey with his last one.
The aftermath scene though! With Tony lying there, arm basically destroyed, and Pepper and Peter surrounding him?!
Ouch! Peter's tearful, "We won Mr. Stark, we won," and Pepper's, "it's ok Tony, you can rest now. We'll be ok."
And that scene was IMPROVISED by the cast!
Now that we've basically covered the movie, there were a few minor things that frustrated me.
One, Steve leaving his teammates and pseudo-family behind to live in the past with Peggy. Being one of my favorite characters, OBVIOUSLY I've always wanted for Marvel to give him a happy ending – however, I don't really think it's in Steve's character to leave behind everyone.
Secondly, I was kinda annoyed by the fact that Steve gave the shield/Captain America gig to Sam. Here's why this bothers me: in my mind, nobody is Captain America EXCEPT for Steve Rogers – he literally embodies the characteristics and it's a part of him, more than just a name. It would be like if we started calling Shuri the new Ironwoman – that would be weird, because Tony IS Ironman.
The only way I would be ok with someone taking over Captain America/Ironman/any-other-superhero-identity would be if it was their children (which, c'mon, canon-wise if Steve really did stay with Peggy, there's literally no way they did not have kids).
So Morgan for instance, if she grew up and took over Tony's mantle, I would be fine with that.
But yeah, the only other thing that I had a bit of an issue with was I thought they overdid Thor's character.
I don't have a problem with him being depressed, heck, ANYONE would after losing your entire family, half your citizens, and your planet, so him giving up/not taking care of himself wasn't as much of an issue for me as how far they took it.
Like at the end, when Thor basically makes it sound like he's giving up his throne to Valkyrie? That doesn't go with his character arc throughout all of his films at all.
Now, if what they mean by this, is that Thor is just taking a break from everything and trying to figure stuff out and heal, BUT is going to come back and take his rightful place as the leader of Asgard, then that's fine. However, if we're supposed to take it literally, then I don't agree with that.
Alright, we've covered most of the major events, except for Natasha's.
Y'all.
Going in to the theater, I expected Steve and/or Tony to die – I think most of us did, so while I didn't want it to happen, I had time to mentally prepare myself. Yet, nowhere in my brain did I possibly think they were going to kill Natasha! Her being one of the few, main female superheroes (we're getting a more even ratio now though, so yay!), I really did not think they were going to do it.
I was in complete denial all the way throughout Clint and Nat's fight. Honestly, part of me thought that neither was going to die, and the fact that they both wanted to die for each other, which is what ACTUAL LOVE IS (whether platonic/familial/romantic) AHEM THANOS, would be enough for them to get the soul stone.
So yeah, when Natasha died, I was SHOCKED.
Whew! That was a lot to cover!
Overall, I really loved the movie. So many great scenes are going into my lists of favorites, with one of those being Steve Rogers standing against the entire army of Thanos with nothing but himself and a broken shield. Not giving up, even if he was the only one still standing in the way of thousands. Such a great scene, really showing who Cap is as a person.
There were a few minor things that bothered me, but on the whole, for the stakes there were and how much the Russo brothers had to think about, I think they did an amazing job.
What did y'all think? Did you love it, hate it? Let me know your thoughts in the comments below!
And if you haven't seen Avengers: Endgame, go watch it!!!
~ Southern Dreamer