Sometimes I find myself in this "all or nothing" mentality. If I can't do it all at once, then it doesn't count. If I can't finish it, then should I even start it?
This can often transition to my perfectionism heaping mounds of rules and extra responsibility onto my faith-filled life and relationship with God. As someone who loves structure and to follow the rules, the concept of freedom and grace is a difficult one to understand, and oftentimes leaves me subconsciously making up rules for myself – sometimes I don't even realize it until after the fact!
One of these self-imposed "rules" that I've recently realized I do to myself, is that my perfectionism whispers, the only way you can spend time with God is if you are by yourself. Being still. And quiet.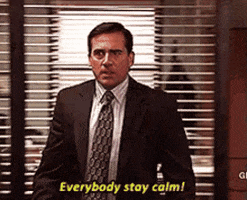 Which, for anyone, who like me tends to be anxious, is the worst idea because quietness = my brain overthinking and coming up with a million things to worry about.
But perfectionism is very tricky that way, because it sounds close to the truth, right? We all know that verse that says, "Be still and know that I am God," – Psalm 46:10.
So here comes perfectionism and legalism using Scripture, but also twisting it, and totally not accounting for God's grace. In the Complete Word Study Dictionary by Warren Baker and Eugene Carpenter, they explain that in Hebrew, these are some of the meanings behind, "be still":
"to relax, to cease, to let go. The term was also employed to signify the act of ceasing from something, of letting go."
And Zondervan's Illustrated Bible Backgrounds Commentary by John H. Walton explains this even further.
"The force of this command is probably directed to the worshipping community, which is encouraged to rest in God's power to save them from warfare (cf. Ps. 37:7)." 
I think it's really interesting that two of the explanations and meanings for this verse are to relax and to rest in God's power – to trust that He is going to save us from our enemies. How cool is that? Before researching this, I had never even heard of this verse described in that kind of context, and yet, from reputable commentaries and concordances, who solely research the Scriptures, it is right there!
Other verses that support this are,
"Be still before the Lord and wait patiently for him; fret not yourself over the one who prospers in his way, over the man who carries out evil devices!" ~ Psalm 37:7
"And he awoke and rebuked the wind and said to the sea, "Peace! Be still!" And the wind ceased, and there was a great calm," ~ Mark 4:39
"The LORD will fight for you; you need only to be still," ~ Exodus 14:14
So, what's the verdict? We've gone through the verse, studied what it's biblical meaning is, and found supporting verses for it. From all of this, the only outcome that I can see is that perfectionism and legalism were wrong.
God is not saying that we have to be completely silent and just sit in quietness all the time – especially for those of us who struggle with overthinking and anxiety ("But you, O Lord, are a God merciful and gracious, slow to anger and abounding in steadfast love and faithfulness," ~ Psalm 86:15).
All He is saying is that He wants us to come before Him, to be still – to rest, to relax, to trust in who He is. And to know that He is God – to remind ourselves of who He is and what He has done.
And y'all, there is so much flexibility and freedom in that! Under these guidelines of love and grace, we can spend time with Him at a noisy coffee shop, outside in nature, with a friend, at a Bible study, even in the car driving to work or school!
We do not have to feel like there is only one way to spend time with Him (speaking to myself here too! 😉 ). There's worship, journaling, singing, praising, reading His Word, and just plain 'ole talking to Him!
Whatever you choose, whether it is in the noise or solitude, remember to trust in God's grace and His love for you!
~ Southern Dreamer