Dim the lights.
The theater goes dark.
Anticipation rises…
The Greatest Showman is seconds away from beginning!
~~~
Y'all, I have already seen this amazing movie three times. The first time was with one of my friends at Alabama, the second was with my dad, and the third with my entire family and Nana. Each viewing, I noticed something new about the movie and still enjoyed it immensely even after seeing it three times in such a short time frame!
There are so many components to love about this movie. The historical time frame, which is always a favorite of mine –  I love seeing all the beautiful costumes, how people lived back then. And of course, it is a musical!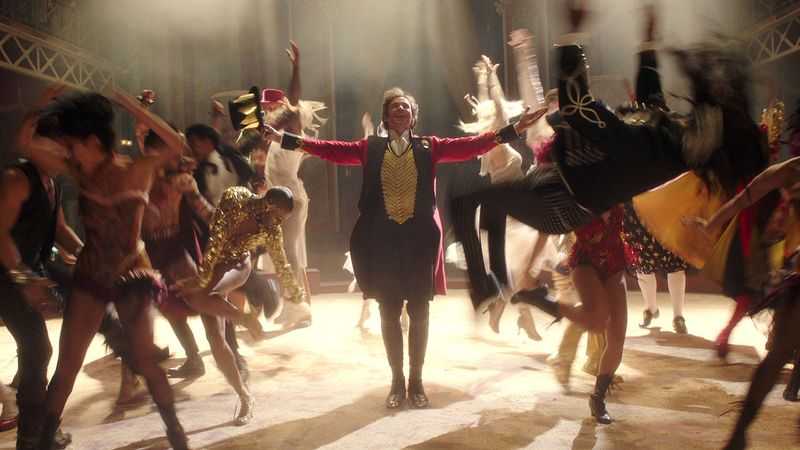 Musicals are pretty much the best. You have dancing, singing, acting – and a story being told through all of those different, moving parts.
For this film, Hugh Jackman – aka Wolverine aka Jean Valjean – stars as the leading character, P.T. Barnum. Other names you might recognize are Zendaya from Spider-Man Homecoming (M.J.) and Disney Channel (K.C. Undercover, Shake It Up), as well as, Zac Efron (!!!) from High School Musical 1/2/3 (Troy Bolton), among other work.
Additionally, there are several stars from Broadway, such as Keala Settle (Hairspray, Waitress, Les Mis, etc…) and Michelle Williams (Cabaret and Blackbird). 
The movie is loosely based around the real life person of P.T. Barnum, who started the Barnum and Bailey circus, which closed on May 21, 2017, after having been opened for 146 years. Like I said, it is loosely based, so please don't watch the movie and take it for 100% historical accuracy.
With that said, onto the spoiler part of the review!
WARNING: Spoilers ahead
SEE ABOVE NOTICE.
SERIOUSLY Y'ALL.
LAST WARNING. SPOILERS AHEAD.
~~~
Alright! Now that that's out of the way, let's delve into the movie-musical!
The way this musical was constructed was so smartly done. A lot of times, when a musical has many reprises of the same song, it can be boring and feel redundant. I'm not entirely sure what the formula was for how they managed to create such an emotionally jarring reprise each time, but they succeeded fabulously.
My favorite part of the entire musical is the first fifteen minutes. Seriously, PERFECTION. The introduction – SO GOOD. Like such a smart move. I adore how they did these sharp clips of Hugh Jackman with his cane, and then flashed to some of the script.
THE ASESTHETIC.
Absolutely awesome.
The kids they chose to play a younger P.T. and Charity, his wife, were adorable. Their scenes were so cute, and the fact that they sing the first "A Million Dreams" version, in this house that (SPOILER ALERT) is later the one they buy???
❤ ❤ ❤
Fast forward, and the next reprise is when P.T. and Charity are now adults, and they are starting their lives together. Charity, who grew up in a wealthy family, is leaving all of that behind to go and be with him. As they walk through the town, you see him wishing that he could offer her everything the world has, and with this, Charity pulls him away and the dance, the reprise begins.
Again, AESTHETIC.
My favorite reprise however, is the last one. Y'all, when it started, I literally looked over at my friend, Ashleigh, and was like what even. FIFTEEN MINUTES into the movie and I'm already getting serious feels???
You know. The scene where it's his daughter's birthday, and he has to put SOMETHING together because she's his little girl…but he kind of got fired, and they don't have much anyway, so he spins this tale of wishes and firelight and danger, all the while putting together this rag-tag gift that's basically a candle holder, but SHE LOVES IT (help me now), and then he says that you tell it your wishes and it keeps them safe AND THEN THEY START SINGING THE SONG OK. IN THEIR BABY CHILDREN VOICES.
ADORABLE. INNOCENT. TEN OUT OF TEN.
It's funny, cause most of the time in movies, my favorite scene is the romantic one, but for this film, the entire way they orchestrated the "A Million Dreams" numbers, and how the emotional gravity kept increasing with each rendition, just got me.
Love.
Another one of my favorite components of the movie was Phillip Carlyle, played by Zac Efron, and Anne Wheeler, played by Zendaya. The progression of their relationship is really told through the music – even if neither one is the main singer in a particular song.
For instance, in "Never Enough," Jenny Lind sings:
I'm trying to hold my breath
Let it stay this way
Can't let this moment end
You set off a dream with me
Getting louder now
Can you hear it echoing?
Take my hand
Will you share this with me?
'Cause darling without you
Cue Phillip taking Anne's hand – so adorable.
All the shine of a thousand spotlights
All the stars we steal from the night sky
Will never be enough
Never be enough
Towers of gold are still too little
These hands could hold the world but it'll
Never be enough
Never be enough
Then, as the song continues, Phillip looks up and sees his parents watching him.
Uh oh. What's going to happen?
He drops Anne's hand instantly, and at this, she leaves Jenny Lind's performance. It really is so heartbreaking, because they both care about each other, but all these things and pressures of the world just keep getting in their way.
There's also a scene between them during the song "This Is Me," where Anne stares up at Phillip from the circus floor, while he is in the office, and just gives him this look. 
Sometime after this, Anne goes to the theatre because P.T. said he "left" her a ticket. Sneaky man! Because, as you continue watching, you realize that it was in fact Phillip – with the help of Lettie and P.T. – who orchestrated this, all for desiring to go on a date with Anne Wheeler.
PRECIOUS.
They start to go up the steps; Anne whispering that she always wanted to go to the theatre, when suddenly, something happens that crashes their happiness.
Guess who?
Phillip's parents.
Being the gentleman he is, Phillip introduces Anne to them, however, the situation only goes downhill from there. Mr. and Mrs. Carlyle treat Anne rudely, making their racism apparent and Phillip is having NONE OF THAT. 
Long story short, he basically says he wants no part in their world or in his inheritance if this is how they're going to act. He leaves the theater, rushing after Anne who darted out at the comments from his parents.
Cue "Rewrite the Stars." Honestly, every single song and musical number in this film was A++, but this was another of my favorites.
You have Phillip, who tries to tell Anne that they can be together – they can change their fate; they can do what they want no matter what anyone else says. You have Anne, who despite wanting to be with him, doesn't think that's possible, says it could never work in the world they live in.
The entire number is heart-wrenchingly beautiful.
There are honestly so many parts of this musical I could go on and on about. I love the scene between Anne and Phillip in the hospital, where Anne is finally willing to risk it all, after almost losing him. I love the entire "This Is Me" number, where they are not shying away despite what society has labeled as useless – and the choreography for that is really awesome too, it shows the exact emotion coming through in the lyrics and matches them word for word. I love the part at the end where the birth of the entire circus tent came to be, how P.T. hands the baton over to Phillip, and goes to be with his family.
I love how P.T. wears his father's hat for the rest of the film, and how in the song, "Tightrope" you can see the wish holder sitting on the little girls' bedside table. I love the attention to detail, especially with the costumes – personally, I believe that P.T. sewed the costumes for the circus, seeing as how he was broke when it first started, and his dad was a tailor. Which, makes it entirely plausible.
I love that this was a family film – that it was clean, decent, and filled with everything that made people want to go watch movies and musicals in the first place. We don't need all this inappropriate stuff, foul language, or vulgar meanings. What people need, and want, whether they realize it or not, is hope, love, something that actually has depth and meaning. Something where commitment is honored, and traditional, good values are kept. 
I'm so happy that Hugh Jackman decided to make this, despite it taking seven years. I wish that it had gotten all the recognition it deserved in awards, but I hope he and everyone that helped make it, knows that the audience and the people loved it, and were it up to us, it would have received more awards.
If you haven't seen it yet, go watch The Greatest Showman! You will not regret it, and will likely find yourself going back to watch it again and again. If you have seen it, what did you think? Did you have any favorite songs or scenes? Let me know in the comments!
~ Southern Dreamer